Have you started baking again during the latest lockdown, or have you continued on from earlier in the year?
Following this second lockdown, a recent study found that almost two -thirds of parents said they have continued to cook and bake with their children since the first national lockdown. The same study found that children are turning into little chefs, spending more time cooking and baking, with those aged between five and thirteen in the kitchen for up to an average of 80 minutes a week, cooking their favourite foods. Possibly unsurprisingly, their favourite treats to bake are fairy cakes and cookies.
Cooking is a great life-skill and one, good to develop children's interest in while they are young. However when your child has food allergies, baking can become a very scary affair for parents. Only this week, a customer shared the fact that he, as a father, had just used our baking mixes with his four year old daughter and baked with her for the first time without any fear. They'd had great fun. His child has multiple allergies including nuts, dairy and eggs. An important milestone for this one family and this is the kind of story we hear over and over again at Creative Nature.
Greg Rutherford, Celebrity MasterChef Winner 2019 and father of two understands the importance and fun of cooking with your children. "As a father myself I know the sheer joy that can come from spending time in the kitchen with your child helping them to create anything from pizzas and pasta dishes to brownies and banana bread".
Even celebrities and the royals have been baking with their children over the last few months. The Duke and Duchess of Cambridge, along with Prince George, Princess Charlotte and Prince Louis, have been busy baking cupcakes for the Royal British Legion's annual Poppy Appeal.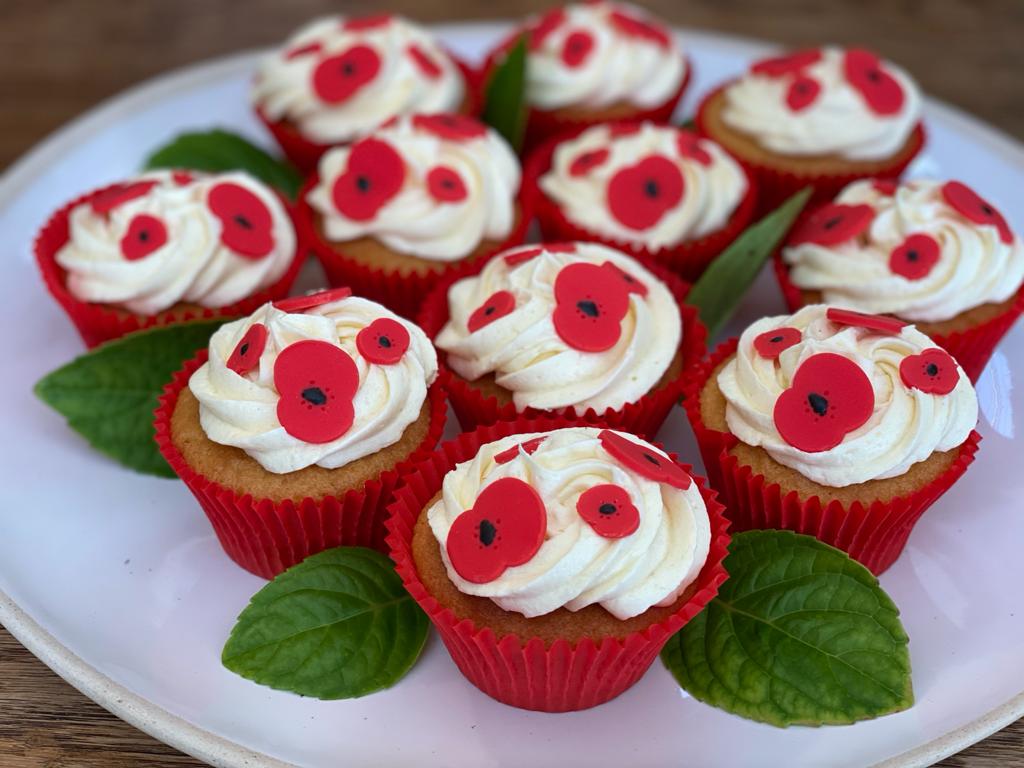 Also, along with their children, the Duke and Duchess made pasta meals and delivered them to elderly residents living on the Queen's Sandringham estate. There have been multiple stories about this. Here's just one: https://www.townandcountrymag.com/society/tradition/a34480990/kate-middleton-prince-william-george-charlotte-louis-poppy-appeal-bake/
David Beckham recently shared an Instagram video of him and his daughter, Harper in the kitchen baking Christmas-themed treats, including making and icing biscuits. Find out more about his baking journey here – https://www.thesun.co.uk/tvandshowbiz/11324208/david-beckham-baking-coronavirus-isolation/
Encouraging children to bake, when they have allergens
If your child is very allergic to certain foods, how do ensure that baking is a safe activity? And how do you help them deal with any anxieties they may feel about food?
Often when young children become fearful about something, they can get irritable, worried and angry, and they can even have physical symptoms, such as headaches, stomach-aches and trouble sleeping. In our culture we don't always deal with these issues well. We try to avoid, or deny that there is a problem.
However, children with food allergies live every day with the probability of eating the wrong food that could potentially kill them. Baking with Creative Nature's products is a wonderful opportunity for children to be able to bake without that fear and any risk.
One activity to help your child assess risk, suggested by a clinical psychologist, is to encourage an anxious child to write out the best thing that can happen in a certain situation, the worst thing and the most likely outcome.
In this case, it might be good to create a list together, of the foods that your child is allergic to.  Then read through the ingredients on the products, so that they understand and recognise that all of the ingredients are safe, and there will be no chance of cross contamination during baking, because everything needed is within the baking mix pack.
This will encourage the child to see cooking and baking as a more positive activity, and working alongside you, not only gives confidence, but you can have fun together.
Creative Natures Baking Mixes
The most important factors for children with allergies are, all of our products are vegan, gluten free, dairy free and 14 allergen-free.
There are no risks of cross contamination if you follow the recipes and you start with a clean kitchen. Creating a successful baked outcome is easily achievable for young children.
One of the best bits of feedback we have received, is from a parent who was so excited to use our products, because for the first time, she could bake with her little girl without any fear.
Some Christmas baking ideas:
We are approaching Christmas and with many of us still in lockdown, this is the perfect time to start baking in preparation for the festivities.
You can create a number of different goodies using our baking mixes.
Create muffins to your taste, and decorate with Christmassy icing or decorations.
Use our Cacao Rich Chocolate Cake baking mix to create a Christmas Log, instead of using the traditional swiss roll.  Bake in an oblong tin, and then decorate to create the log effect.
Bake the Simply Spiced Carrot Cake Loaf, and decorate, making it look like a parcel.
Use your favourite cake baking mix, make Christmas- themed cakes, such as Christmas trees, Snowmen, Reindeer, Penguins and other seasonal characters and ideas.
Make snowmen, either using the Chia and Cacao Choc Chip Brownie mix, and cut and build up to create  mini snowmen shapes and ice, or make chocolate chip muffins and use vegan marshmallows on top as snowmen, using decorations for the eyes.
Use butter icing or for alternative icing recipes, check out the recipe section on our website, where you can find recipes for Vegan Yoghurt icing and Vegan chocolate frosting: https://www.creativenaturesuperfoods.co.uk/recipes/
For added decorations, use your favourite chocolate Gnawbles, or a sprinkling of cacao nibs or our Goji Berries. Alternatively, use vegan marshmallows and other decorations and cake toppings: https://www.thecakedecoratingcompany.co.uk  where some products are gluten free; vegan etc.
The possibilities are endless once you embrace the fact that stress free safe baking is possible for those who live with food allergy or intolerance.